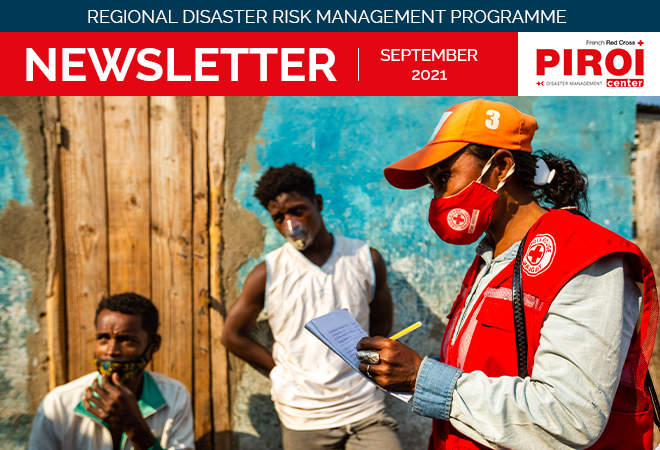 SOLLUNE phosphorescent tarpaulins: an innovative lighting solution is now part of PIROI stocks
After two years of partnership with the Humanitarian Design Bureau, SOLLUNE phosphorescent tarpaulins are now part of PIROI's pre-positioned stocks of equipment in Reunion Island. This tarpaulin, which accumulates sunlight to provide soft lighting at night, will improve the quality of humanitarian aid provided during emergencies to the populations of the South West Indian Ocean.
National Societies prepare for the cyclone season
As the cyclone season approaches, National Societies (NS), with support from PIROI, are organizing contingency planning workshops to update national and regional contingency plans. The aim of the response strategy is to decentralize disaster response capacity to the NS branches.


These workshops are being implemented with the financial support of the European Union's Humanitarian Aid
Water treatment in emergencies: a practical workshop in Mayotte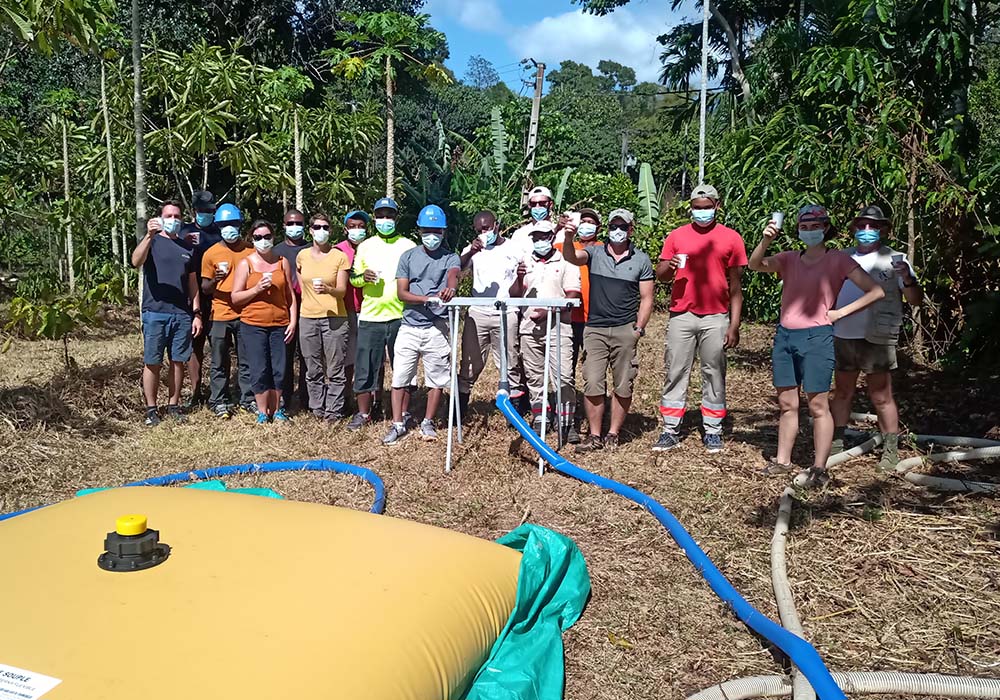 From 10 to 12 September 2021, PIROI organised at Combani (Mayotte) a training workshop on water treatment in emergencies for response team members and local water management stakeholders.

A practical exercise allowed the 16 participants to practice the assembly, operating, and dismantling of water treatment lines.
Cash transfers: humanitarian aid tailored to the
needs of each family
Cash transfers are an innovative approach to humanitarian aid that consist of distributing financial resources to disaster-affected communities.


To support the region's NSs with this process, PIROI is currently conducting a study to help integrate and implement cash transfers not only in PIROI's own strategy and activities but also those of its member NSs.
To go further
Watch a video on how cash transfers work → Play the video
Take part in a distance learning course on cash transfers delivered by Cash Learning Partnership (CaLP), available in English, French and Arabic → Read more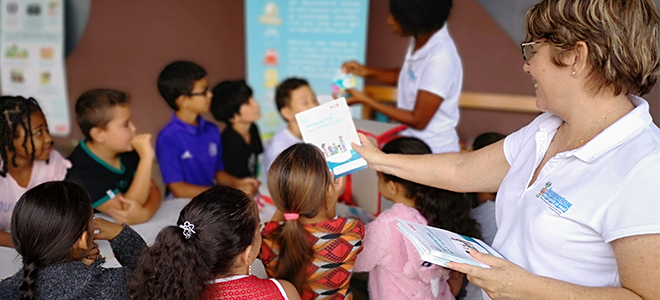 PIROI supports and equips risk reduction practitioners
PIROI has developed a methodology guide and toolkit on disaster risk education for Small Island Developing States (SIDS). These resources are the result of pooling lessons learned from 18 disaster risk reduction (DRR) projects conducted by the region's NSs with PIROI's support, and aim to help guide DRR practitioners in implementing projects and activities.
How can international disaster response in the south-west Indian Ocean be facilitated and regulated?
From 7 to 9 September 2021, PIROI and the IFRC's DLP (disaster law programme) held a regional workshop on international disaster law in the south-west Indian Ocean.


More than 50 participants were represented at this workshop: Red Cross/Red Crescent Movement, Civil Security of the area, United Nations, AFD, COI, experts in international humanitarian law and disaster risk management actors.
Spotlight on the Paré pas Paré anniversary event
To mark the Paré pas Paré project's 10th anniversary, the French Red Cross organised a unique event to raise awareness about natural risks and first aid.


Over the course of the day, more than 400 members of the public visited the Jardins de la Plage venue in Saint Pierre, joining in activities that were organised in compliance with health regulations.
The Paré pas Paré project Steering Committee met on 30th August. This was an opportunity for all technical and institutional partners to review 2020/2021 activities, and discuss the outlook for the coming year.
Read more news about the project: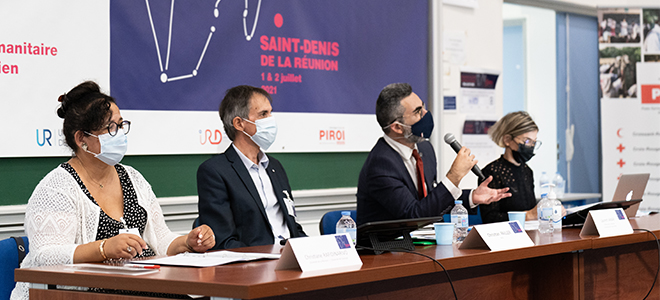 "Humanitarian transition in the Indian Ocean": a look at the French Red Cross Foundation's international conference
The French Red Cross Foundation's annual international conference was held on 1 and 2 July 2021 in Reunion Island. This conference, co-organised with PIROI, brought together a wide range of humanitarian, academic and institutional actors with the aim of defining, understanding and anticipating the humanitarian transition currently underway in the SIDS of the South West Indian Ocean in relation to neighbouring continental countries.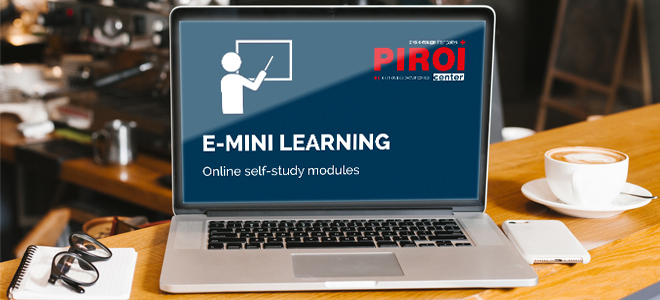 PIROI offers online self-training modules
PIROI resumes the distribution of "e-mini learning"! These online self-training modules will be sent every two months to PIROI subscribers and will offer didactic learning on a specific risk management topic.


The next module will be sent on 28 September, so subscribe to receive it directly in your mailbox!
Training calendar 2021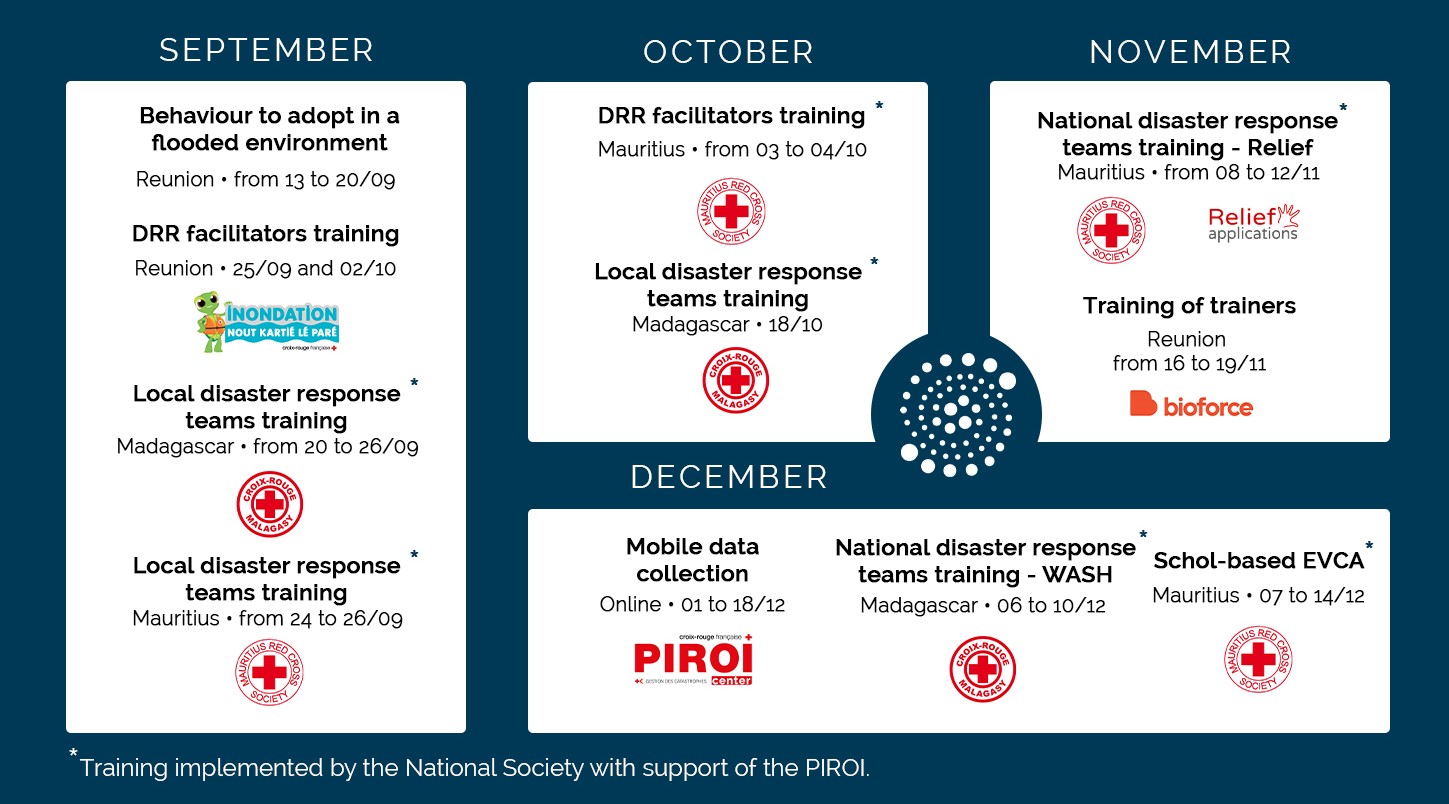 For more information on PIROI's training courses, contact celine.white@croix-rouge.fr
Next appointment in the podcast "L'instant recherche"
On 12 October, PIROI will participate in the French Red Cross Foundation's podcast "L'instant recherche". In this 5th episode, we will discuss the social science perspective on humanitarian issues in the Indian Ocean. Registration → contact@fondation-croix-rouge.fr