March
2020
One month, one training !
Environmental approach in humanitarian action Waste management
Since March 2019, the French Red Cross has adopted a Corporate Social Responsibility strategy, in which prevention and reduction of waste is one of the main thematic for the environmental and economic components.
As a witness to the direct consequences of climate change, humanitarian aid can also generate pollution. PIROI is working in contexts very affected by climate change, where it is crucial to integrate the "environmental" component in the design of aid projects and programs. This is why we offer you through this Mini Learning to strengthen your knowledge and tool yourself to reduce the waste produced by your activities in the professional context.
ABOUT THE TRAINING
Disaster Waste Management: best practices and tools (
Available in english, spanich, French and Russian)
After completing this course, participants will be able to :
Identify the various types, compositions and sources of disaster waste.
Prioritize which types of disaster waste to focus on in the immediate, short, medium, and long term.
Select the most appropriate waste management options based on the context of the disaster.
Explain the opportunities that successful disaster waste management can create, including how to make projects sustainable.
List the specific ways to prepare for disaster waste given the types of disaster which can occur.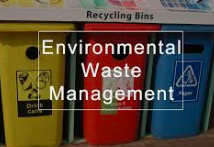 Click on the image to acess the training
INITIATIVES WITH THE HUMANITARIAN NETWORK
WITH NEAT+, ANALYZE THE ENVIRONMENTAL IMPACT OF YOUR PROJECT PLANNING
The Nexus environmental assessment tool (NEAT +) is an environmental assessment tool developed by UN Environment / OCHA which allows humanitarian actors to quickly identify environmental problems before designing emergency or recovery interventions. It generates a report categorizing areas of risk and which have been associated which may be useful for mitigation.
FOCUS ON MEDICAL WASTE MANAGEMENT
1 rue de la Croix-Rouge
ZAC de La Mare