Risk prevention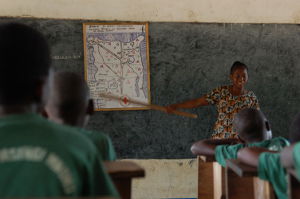 Community-level actions
Following the 2004 tsunami that devastated Asia the international community became aware of the importance of raising public awareness of the risks around them in order to reduce people's vulnerability. In fact a great deal of damage could have been prevented if communities had been better prepared.
Following this disaster several community-level risk reduction projects have been undertaken in the Indian Ocean, supported by PIROI.
Since 2007 raising public awareness of natural disaster risks is a strategic priority for PIROI and its partners, and this has been put into practice by setting up risk reduction projects.

The French Red Cross, via PIROI, introduced the 'Paré pas Paré' ('Ready or not'?) project in Reunion. The activities, organised since 2011 and funded by the ERDF programme, aim to raise the awareness of Reunion's population, particularly young people, about the risks of natural disasters affecting the region.
-> Read more informations about this project
Micro-projects in the Indian Ocean
At the same time, thanks to funding from the Indian Ocean Commission, in 2012 a series of pilot projects began across the region. PIROI is in charge of supporting the National Societies and monitoring these projects. The awareness campaigns have reached more than 150,000 people, both school children and adults, including neighbourhood community leaders.
Four countries participated in these events, each contributing a local version of the project:
Mauritius – "Zeness Pran Kont"
Seychelles – "Azir ozordi prepar pour demen"
Madagascar – "Disaster Risk Reduction in the region of Analamanga"
Union of the Comoros – "Shababi ka tayar! – Young people, be ready!"
Initially intended to last three months, the micro-projects were carried out over a period of nine months, until early 2014.
After assessing these operations, National Societies have shown interest in pursuing the projects by including new target populations.
The "Shababi Ka Tayari" pilot project
Over 5,000 young Comorians have benefited from information sessions organised by ten facilitators recruited and trained by the National Society. Nearly 170 teachers and parents of pupils were also involved in a competition about natural risks involving 18 partner schools.
The Ministry of Education has validated all the resources that have been developed, in particular the children's handbook. Continuing these activities requires mobilising government agencies, especially the Ministry of Education.
Consequently the FRC-PIROI has approached the Indian Ocean Commission to establish a partnership with the Comoros' education system to raise awareness of natural risks.