The PIROI Center > Training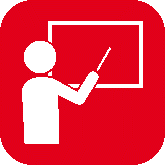 Ever since PIROI was founded it has worked actively to develop the capacities of its network members, who are mainly National Society volunteers and employees.
In order to secure its position regionally and internationally, PIROI has strengthened its provision of training in three strategic priority areas:
Diversification of attendees and training locations: development of further and basic training courses with the University of Reunion Island, as well as off-site training within the PIROI network.
Digital strategy: tools and content are available online, new technology and innovative applications or software are used, and course registration is web-based.
Quality strategy: training content is designed according to trainees' needs, trainee supervision procedures are standardised, and recommendations for future courses are sought.
Target audience
PIROI training is intended for both volunteers and employees of its network-member Red Cross and Red Crescent National Societies, as well as for those from other regions of the world, particularly French-speaking countries.
Several courses are also open to non-Red Cross participants such as NGOs, local authorities, public bodies, etc, in order to develop the capacities of disaster risk management practitioners in the south-west Indian Ocean.
Topics
Topics covered by the courses on offer are adapted to local and geographical realities, as well as to the needs and demands expressed by learners.
PIROI courses specialising in disaster risk management address adaptation to climate change in a multidisciplinary way. Course content is developed through discussions with our technical partners (Météo France weather centre, Red Cross Climate Centre, etc.) or is submitted by certified training organisations such as the Bioforce Institute.
In order to meet Indian Ocean-specific needs and contexts, PIROI's training offer is organised into 4 categories:
Disaster risk management and climate change adaptation training
Disaster risk management is a core part of PIROI's expertise, and is approached differently depending on the needs identified and the public concerned. The courses developed are aimed at Red Cross/Red Crescent volunteers who implement DRM projects, as well as teachers, local authority staff, or humanitarian personnel who work in emergency situations, and are aimed at ensuring the effectiveness of crisis reduction, preparedness, and management measures.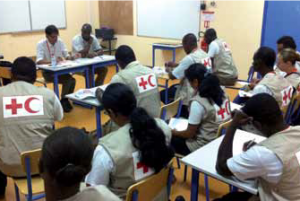 Sector-specific technical training
Primarily intended for future members of the Regional Disaster Response Teams (Surge), these standardised courses cover four sectors:
Emergency shelter and camp management
Emergency water, sanitation, and hygiene
Public health and response to health crises
Humanitarian logistics
Management and leadership training
These courses are aimed mainly at senior managers who would like to improve their project management skills, team leadership, and resource mobilisation techniques.
Methodology and innovation training
Topics in this field correspond to technological breakthroughs or digital innovation and the changing needs of the sector.
Follow-up of participants and skill development
PIROI training is designed to be both practical and lasting. Programmes are developed and implemented to help trainees achieve their learning goals by leveraging their own experience while offering a skills-based framework through which they can progress with the training on offer.
Certificates of participation are issued at the end of each course. Trainees systematically receive follow-up after the course and for the next 6 months in order to assess learning outcomes and their practical application in the field, as well as to offer additional training.