Mauritius Red Cross Society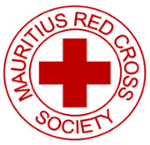 Information about the National Society
Founded: 1973
Recognised by the RC/RC Movement: 1973
Members/volunteers: 383
Salaried employees: 13
Activities
Disaster preparedness and response
The Mauritius Red Cross Society (MRCS) is a member of the Prime Minister's 'National Disaster and Other Calamities Committee' (NDOCC). It has 6 branch disaster response teams (BDRT), and a national team (NDRT). The National Society regularly participates in simulations organised in coordination with the local authorities. Four team members are also RDRT-trained to intervene throughout the Indian Ocean region.
Training
Mauritius Red Cross Society provides first aid training for the general public, police officers and other civil servants, as well as businesses and non-profits (NGOs, associations, etc).
Relief work
Mauritius Red Cross Society has an emergency ambulance service, and has developed a transport service for those with minor injuries and patients requiring regular and long-term hospital treatment (muscular dystrophy, cancer, mobility impairment, etc.). Mauritius Red Cross Society regularly mans first aid stations during sports and other events.
Social work
MRCS has themed its activity on social assistance for the most vulnerable, which involves: social assistance and service, distribution of food and clothing and a school feeding programme.
Information/dissemination of International Humanitarian Law
Mauritius Red Cross Society works closely with the Government and the Ministry of Education (humanitarian law). The University of Mauritius has a humanitarian law section as part of its law curriculum. The information/dissemination officer focuses on schools and the general public.
Contact information
Address : Rue Sainte-Thérèse
Curepipe – Ile Maurice
Phone : + 230 670 0276 / + 230 670 1274
Fax : +230 674 88 55
E-Mail : mrcs.headquarters@outlook.com

www.facebook.com/croixrougedemaurice