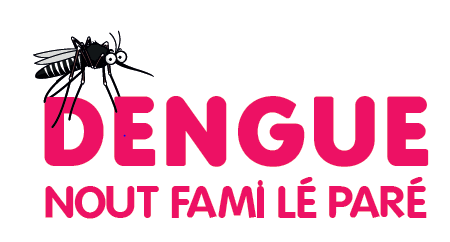 The "Dengue, nout fami lé paré" ("Our family is ready to fight dengue") project
Dengue fever in Reunion
The tiger mosquito, vector of the dengue virus, circulates in most tropical and subtropical regions. It can be found in all the islands and countries of the south-west Indian Ocean, and has exposed Reunion to dengue.
Since July 2018, Level 4 of the Civil Security Response Organisation (ORSEC) specific programme for combating medium-intensity arbovirus epidemics has been activated on the island. Between January and July 2020, Reunion saw more than 16,100 cases and 13 deaths.
The project
In order to reduce the effects of the virus and strengthen the resilience of the local population, PIROI – working in partnership with Reunion's Prefecture and the Regional Public Health Authority – has developed the "Dengue, nout fami lé paré" project to:
Raise public awareness of the disease and how it is spread

Encourage adoption of best prevention practices

Work with public health organisations as part of the joint effort to fight the epidemic
Prevention measures adapted to the local context 
Throughout the year members of the public of all ages are invited to take part in dengue awareness activities, providing them with an opportunity to learn how the virus is spread and how to prevent it.
PIROI has adapted and developed several awareness-raising resources for this purpose:
Awareness-raising activities are carried out at public events or farmers' markets in Reunion. They are run by French Red Cross volunteers who have been trained by the PIROI project team, and who are assisted by professionals from the Regional Public Health Authority.
Methodology guide
Following the 2018-2019 epidemic, PIROI drafted a methodology guide to share best practices from the project with PIROI-member National Societies so that they can implement similar activities in their own local communities.