Rodrigues, a small island in the Indian Ocean that belongs to the Republic of Mauritius, is particularly vulnerable to natural hazards. It has a local branch of the Mauritius Red Cross Society with 30 members who have been trained in disaster preparedness, however due to a lack of storage capacity on the island, local availability of intervention stocks is somewhat limited.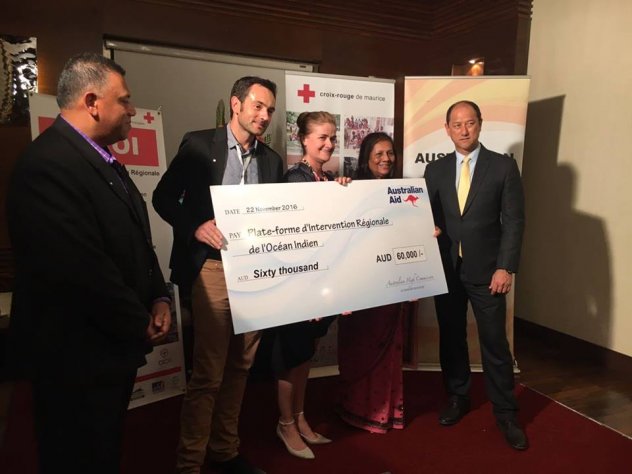 The Australian Embassy has been working with PIROI and Mauritius Red Cross throughout 2016 to expand the network of pre-positioned stock. In this capacity, and on the sidelines to the Sixth Africa Regional Platform and Fifth High Level Meeting on Disaster Risk Reduction, the Australian High Commission in Mauritius presented PIROI with a cheque of AUD60,000 (a little over €40,000).
The funding will be used to support the construction of a warehouse in which to pre-position emergency supplies on Rodrigues.
Building this warehouse is part of a larger project that includes the development of a Mauritius Red Cross emergency plan for Rodrigues, the training of a local disaster response team attached to Mauritius Red Cross' head office and Rodrigues authorities, and the implementation of activities to raise public awareness of disaster risks.