PIROI
PIROI, or the Indian Ocean Regional Intervention Platform, is part of the French Red Cross and reports to its International Relations and Operations department, who have carried out a regional programme of disaster risk management (DRM) in the south-west Indian Ocean since the year 2000.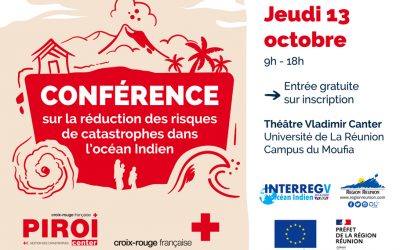 13 octobre 2022 - 9h/18h - Saint-Denis de La Réunion (Théâtre Vladimir Canter) Nous ne pouvons pas empêcher la survenance des catastrophes liées aux aléas naturels, mais nous pouvons atténuer leur impact. C'est la conviction de la Croix-Rouge française qui met...
OUR SOCIAL WALL
Follow our updates on social media.
Help raise awareness by liking and sharing !
VIDEO PRESENTATION
A brief presentation of our actions and projects in the Indian Ocean.
Check out our Youtube channel for more