Climate change: an increase in natural risks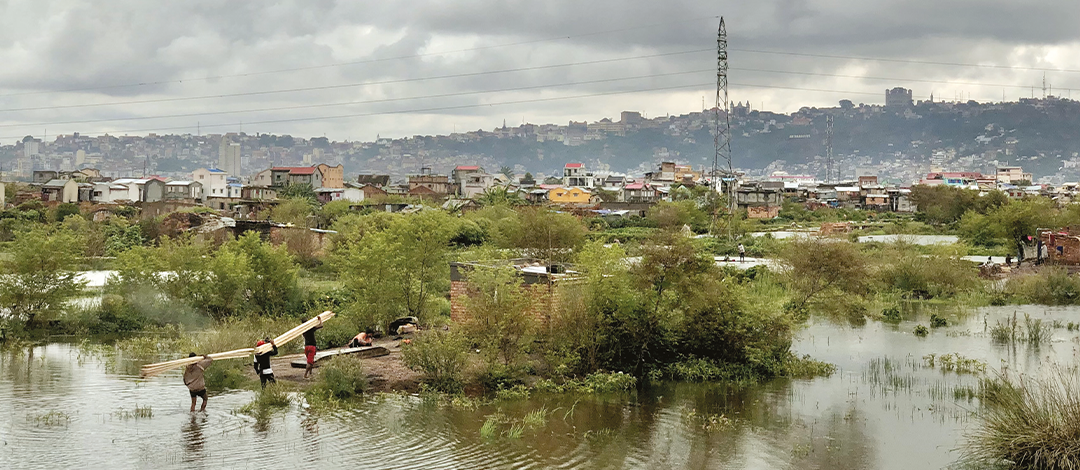 Photo credit  : Denis Onyodi
Climate change is the main factor behind the doubling of natural hazard-related disasters worldwide over the last two decades. Higher air and water temperatures are causing sea levels to rise and intensifying the severity and duration of storms, winds, droughts, and fires, as well as leading to heavier rainfall and flooding.
Between 2000 and 2019, there were more than 7,300 natural disasters globally, twice as many as between 1980 and 1999. They were responsible for the death of more than 1.2 million people and affected half the world's population.
As well as driving home the large-scale consequences of disasters throughout the world, these striking figures also illustrate how critical it is to promote better understanding of disaster risks, so that suitable action can be taken to safeguard people, infrastructure, and livelihoods.
To make matters worse, climate change is already negatively impacting health. Increasingly frequent extreme weather events, such as heatwaves, storms and floods, are triggering the (re)emergence of infectious diseases and thus epidemics, are disrupting food systems, and have also been linked to mental health issues. Between 2030 and 2050, climate change is expected to cause approximately 250,000 additional deaths per year.
Focus on the Indian Ocean
The second part of the 6th IPCC (Intergovernmental Panel on Climate Change) assessment report on "Impacts, Adaptation and Vulnerability", emphasises the risks facing Small Island Developing States.
Notably, it states that the Indian Ocean is the third region in the world most affected by extreme weather events. These phenomena – tropical cyclones and storms, flooding, droughts, and wildfires – are predicted to become stronger and more frequent, particularly for south-west Indian Ocean islands and coastal areas. These risks are compounded by geological hazards (landslides, volcanic eruptions, earthquakes, and tsunamis) that also occur in the region. Mozambique, Tanzania, Madagascar, Reunion Island, Mauritius, Seychelles, Mayotte and Comoros are especially vulnerable due to their specific typography and geographical location.
Find out more
Summary of climate trends in the Indian Ocean, according to the French Institute for International and Strategic Affairs (IRIS) – 2019 report
Over the past 50 years, atmospheric temperatures have warmed by between 0.6 °C and 1.1 °C, depending on the region. This is a slower overall rate than in other parts of the globe, particularly the northern hemisphere. During the same period, Indian Ocean sea levels rose by 0.4 mm to 1.2 mm per year, although there are marked year-to-year fluctuations of 20 cm to 30 cm (Rakotobe, 2012). This rise is already threatening some coastal areas (through erosion) and communities, while drinking water is becoming contaminated by saltwater intrusion. Except for Seychelles, the whole south-west Indian Ocean is also receiving less rainfall.
By 2090, the region is likely to experience an increase in atmospheric temperature of between 2.8 °C and 3.9 °C, which will occur faster inland than in coastal areas – this is the case in Mozambique for example (McSweeney et al., 2009). Global warming also appears to be more pronounced on Madagascar and the African continent than on islands such as Reunion, according to the latter's Météo France weather service. Temperatures are set to climb sharply during the hot season, leading to more frequent heatwaves.
* For more information on this subject, see these Météo-France articles.
A sea level rise up to 56 cm is projected by 2090, although this figure is difficult to predict due to high interannual variability (Rakotobe, 2012). Precipitation patterns are also expected to fluctuate more, with greater seasonal contrasts (less rain during the dry season, more rain during the wet season). Although rainfall is likely to decrease across the region as a whole, it is anticipated that extreme rainstorms become more widespread, exacerbating the risk and severity of flooding.
The Indian Ocean is the most prolific ocean for cyclone formation, with an average of nine recorded every year (IOC, 2011a.). Although an uptick in the number of tropical storms has not been observed yet, the proportion of storms reaching cyclone status – that is, with winds stronger than 165 km/h – has grown since 1975. By the end of the century, cyclones are likely to continue becoming more intense, but they may also form less frequently. A broadening of the cyclone impact zone northwards is expected, which will affect regions such as the Seychelles and Northern Madagascar that have been spared until now (IOC, 2011b.)
* The full IRIS report can be read here (in French).