Mount Nyiragongo, located near the city of Goma in the eastern Democratic Republic of Congo (DRC), started erupting on 22 May 2021 at 7pm local time. Two lava flows emerged from the volcano, one heading east towards Rwanda, and the other heading towards Goma, destroying 17 villages along the way. Fearing another eruption the authorities ordered 80,000 households to evacuate, a measure which affected almost 400,000 people. Current reports indicate 31 deaths and 24 people burned by lava; 40 adults and 170 children have been reported missing.
The Democratic Republic of Congo Red Cross Society (DRC RC) in coordination with its partners – particularly the International Federation of Red Cross and Red Crescent Societies (IFRC), International Committee of the Red Cross (ICRC), and partner Red Cross Societies operating in the country – has worked to meet the needs of affected communities through first aid and assistance to the injured, evacuation of populations to safe areas, distribution of water, awareness raising for at-risk communities, care of unaccompanied children, psychological support, and so forth.
The French Red Cross (FRC) has been active in DRC since 2010, where it has been running programmes focusing on health (HIV-AIDS, malaria, COVID-19, Ebola), access to water, and food security. To help tackle this major crisis, the FRC delegation in-country is working closely with DRC RC. It has distributed personal protective equipment to voluntary aid workers and, through PIROI, also provided humanitarian supplies to help disaster-affected populations.
The Indian Ocean Regional Intervention Platform (PIROI) has thus dispatched 40 tonnes of equipment, including 2,000 emergency shelter kits and 4,000 tarpaulins. A plane specially chartered by the French Red Cross took off from Reunion Island on Wednesday 2nd June bound for Kigali International Airport in Rwanda. The equipment was then transported by road to DRC, and distributed by French and Congolese Red Cross teams in the displaced persons camps that have sprung up around the town of Saké (DRC).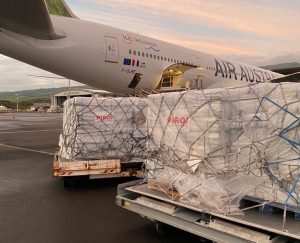 This emergency relief operation was carried out with financial support from the Crisis and Support Centre of the French Ministry for Europe and Foreign Affairs.