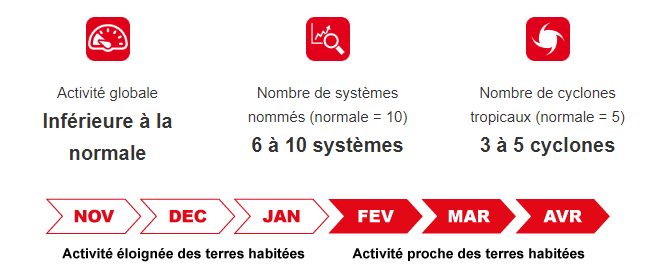 For the 2022-2023 cyclone season, Météo-France's Regional Specialised Meteorological Centre (CMRS) forecasts slightly below-normal activity for the south-west Indian Ocean cyclone basin.The season can thus expect between 6 and 10 tropical storms or cyclones, with 3 to 5 of them reaching the stage of tropical cyclone.
The 2022-2023 cyclone season began early in the region, since 3 systems – including 2 moderate tropical storms – have already developed far from inhabited land: ASHLEY at the end of September, and BALITA at the beginning of October (this is unusually early, but not unprecedented). However, Météo-France does not expect activity to be sustained throughout the season: the forecasters estimate that there is a 60% probability of below-average cyclonic activity, a 30% probability of near-average activity, and only a 10% probability of above-average activity.
PROBABILITY OF CYCLONE FORECASTS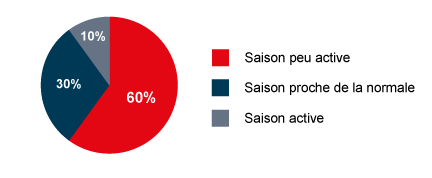 It is expected that the season will be split in two: during the first part (November to January) cyclonic activity will mainly stay away from inhabited land, while during the second part (January to April) systems may develop closer to inhabited land.
DISTRIBUTION OF CYCLONE ACTIVITY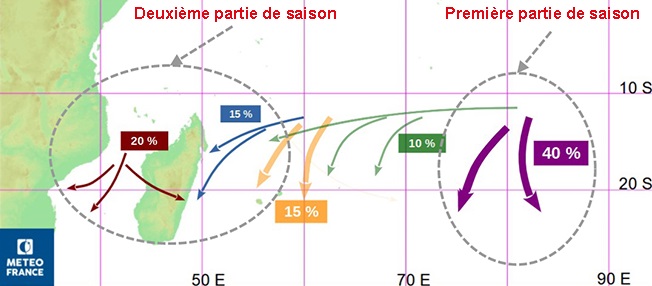 DISTRIBUTION OF CYCLONIC ACTIVITY IN THE 2ND PART OF THE SEASON