​After travelling across the Indian Ocean for more than 35 days, FREDDY marked the 2022-2023 cyclone season with its exceptional longevity and major impact on the people of Madagascar, Mozambique, and Malawi. Since developing off southern Indonesia on 6 February 2023, FREDDY twice made landfall in Madagascar and Mozambique before finally ending its journey in Malawi on 15 March.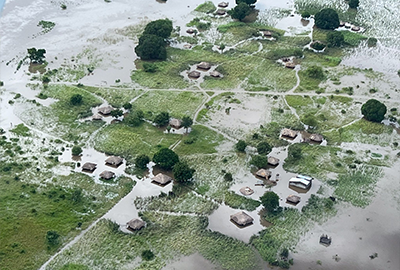 On 24 February, FREDDY impacted Mozambique for the first time, affecting the provinces of Inhambane and Sofala. Once inland, the system made a U-turn and on 1 March began picking up strength again in the Mozambique Channel. On the evening of 11 March, FREDDY crossed the Mozambican coast again, this time at Quelimane as a tropical cyclone. After travelling across the country, FREDDY finally ran out of steam in Malawi on 15 March. The rains generated by the cyclone exacerbated the floods which both countries had already been experiencing for several weeks.
​According to Mozambique's National Institute for Disaster Management (INGD), Cyclone Freddy caused 183 deaths, affected 1,187,265 people, and destroyed 132,364 houses.
Red Cross emergency response
Before cyclone FREDDY made landfall on the coast, Mozambique Red Cross (CVM) was already mobilising its volunteers to ensure communities were protected from the severe flooding that had occurred earlier, and also from the cholera epidemic currently sweeping the country: 25,438 cases and 118 deaths had been recorded by 11 April 2023.
On the basis of the forecasts and trajectory predicted by meteorological services, CVM volunteers – in coordination with the National Institute for Disaster Management (INGD) – implemented early warning actions such as awareness-raising for communities at risk, preventive evacuations, and pre-positioning of boats for rescue operations. Thanks to prompt mobilisation of the volunteer network, 15,000 people across the country benefited from early warnings and actions.
Operational strategy
Once Cyclone FREDDY had made landfall, volunteers were involved in various emergency response activities: search and rescue of casualties, psychological first aid, registering beneficiaries in emergency accommodation centres, distributing basic necessities, and needs assessments. The data collected in the field was used to define a plan of action as well as priority areas of intervention:

Map of humanitarian supplies being distributed by Mozambique Red Cross with the support of Red Cross/Red Crescent Movement stakeholders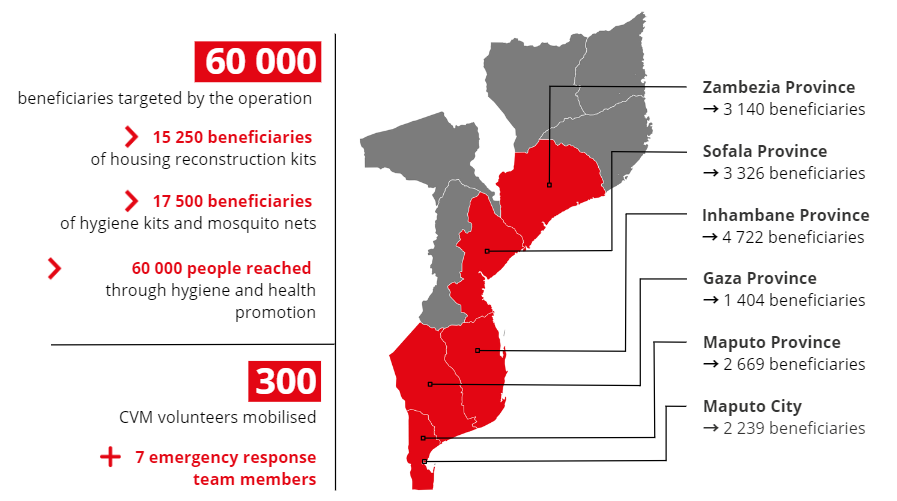 Some supplies have already been distributed, particularly in Zambézia Province. Mozambique Red Cross teams are currently organising other distributions which will take place over the coming weeks.
Mozambique Red Cross and its partners are working across the board in particular to ensure that health issues related to the cholera epidemic are integrated as part of the response to FREDDY. The operation includes support to the Ministry of Health in terms of awareness campaigns to prevent the risk of cholera transmission. The volunteers are also involved in disinfecting treatment centres for diarrhoeal diseases, as well as distributing chlorine and bottled water. As a result of their efforts, we can already report that: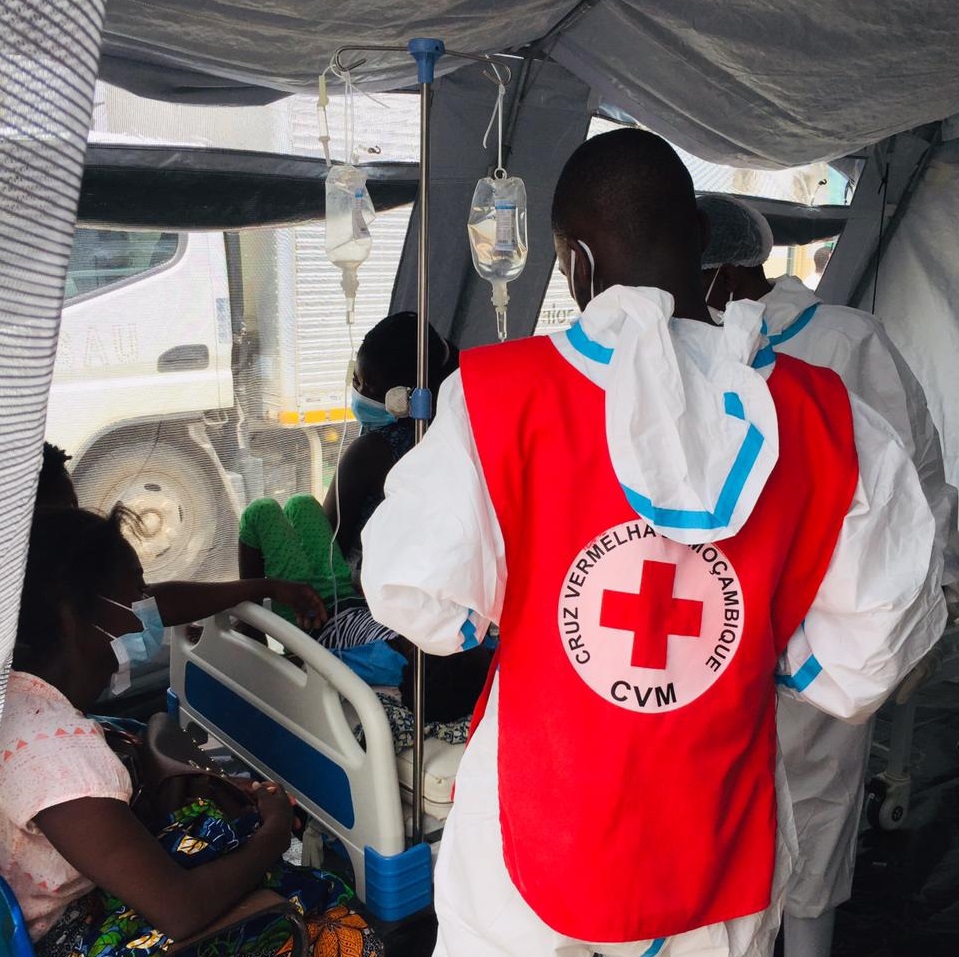 Support from Red Cross Movement stakeholders
Movement stakeholders – IFRC, Red Cross partners (Belgian Red Cross, and French Red Cross via its delegation on the ground and PIROI) – are providing support to Mozambique Red Cross's humanitarian response. Two emergency funds have been set up by the IFRC to support, on the one hand, the operation related to the flooding and cyclone FREDDY, and on the other hand, the cholera response. Support in the form of human resources has also been provided by the Movement's partners, with 7 emergency response team members seconded to the operation by the IFRC as well as by the Belgian and French Red Cross Societies.
The French Red Cross is supporting CVM in implementing various phases of the operation, particularly through its in-country delegation, and its disaster risk reduction project financed by the French Development Agency. This support, provided specifically in Zambezia Province, concerns various actions:
Training volunteers deployed in the field ;
Disseminating prevention messages on the radio ;
Assessing communities' needs ;

Organising distribution of supplies ;
Deploying volunteers.
Through PIROI, the French Red Cross has supported operational coordination in the field and logistical assistance from its regional warehouse located in Reunion Island. In total, 25 tonnes of supplies are being shipped to Maputo and will be distributed by CVM, with IFRC assistance. The stocks – deployed thanks to the participation of the Crisis and Support Centre of the French Ministry for Europe and Foreign Affairs – include housing reconstruction kits, tarpaulins, mosquito nets, buckets, jerrycans, and soap.
A more broad-based response is being provided by the French Red Cross, particularly to address the cholera outbreak in Malawi, where the disease has already claimed 1,722 lives and affected 56,763 people (figures from 04/04/23). On Thursday 23 March, an initial emergency response team including medical workers and a logistician flew to southern Malawi, where they set up two mobile clinics. They were joined a week later by another team consisting of two doctors, three nurses, a logistician and a team leader.
The French Red Cross's contribution to the operation in Mozambique is backed by the Crisis and Support Centre of the French Ministry for Europe and Foreign Affairs and the French Development Agency (AFD).
To stay informed of PIROI's regional disaster risk management programme, complete the form below.