To support COVID-19 response by south-west Indian Ocean National Societies, PIROI has sent a new shipment of 1,200,000 COVID-19 protection masks (surgical and cloth), 10,000 pairs of gloves, and 250 litres of sanitiser gel thanks to a donation from the French government and through deployment of PIROI stocks.
As the COVID-19 pandemic continues to impact the region's countries, PIROI is delivering protective health equipment to support the Red Cross and Red Crescent (RC/RC) National Societies in Madagascar, Mauritius, Mozambique, Seychelles, Tanzania, and the Union of the Comoros.
In Tanzania, such equipment will help support Tanzanian Red Cross in protecting displaced Burundians in Kigoma and Rukwa province refugee camps. This particular humanitarian shipment was made possible through a donation from the French government, and was transported with the financial support of the EU's Humanitarian Aid and the French Development Agency (AFD) as part of its '3 Oceans' programme.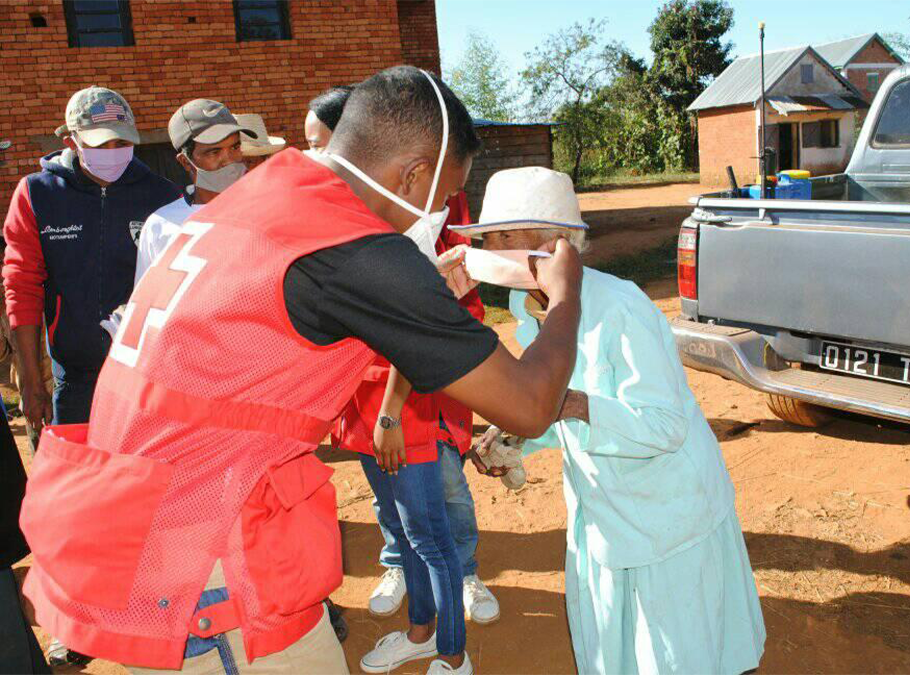 French Red Cross at the forefront of epidemic response
Since the start of the COVID-19 outbreak, RC/RC National Societies have been mobilised to help south-west Indian Ocean communities reduce the spread of coronavirus. Working in coordination with the IFRC[1], numerous health crisis response measures have been undertaken to reduce communities' vulnerability. Participating in vaccination efforts, distributing personal protective equipment (PPE), preventing risks, supporting health facilities and public relief efforts, and providing psycho-social support for populations: volunteers' tireless commitment to the RC/RC Movement has played a vital role in managing the pandemic.
In order to address health challenges, PIROI has strengthened its cooperation with National Societies, helping them fulfil their status and role as auxiliaries to the public authorities. As a result, the composition of contingency stocks in PIROI's regional warehouses has been adjusted in order to better respond to needs for personal protective equipment (masks, gloves, sanitiser gel, and disinfection sprays).
Since the pandemic began, PIROI has already sent more than 1.7 million masks, 375,000 pairs of gloves, 10,000 litres of sanitiser gel, and 50,000 items of protective equipment for healthcare workers to the region's National Societies (Malagasy Red Cross, Mauritius Red Cross, Seychelles Red Cross, Comoros Red Crescent, Tanzania Red Cross, Mozambique Red Cross, FRC delegations in Mayotte and Reunion).
 [1]International Federation of Red Cross and Red Crescent Societies
In partnership with:

With the support of: