CHALANE was the 4th system of the 2020-2021 south-west Indian Ocean cyclone season to be monitored by the region's weather services. It posed a potentially serious threat to several nearby countries, leading to immediate mobilisation by PIROI and its partners.
After forming into a tropical depression on 23 December 2020, it then strengthened to become a tropical storm. CHALANE made landfall in Madagascar, north of Toamasina, during the night of 26 to 27 December as a tropical depression, bringing strong winds and rainfall. It then weakened as it crossed Madagascar from east to west. On leaving the Malagasy coast CHALANE again strengthened into a strong tropical storm, before hitting land in the district of Muanza, north of Beira City in Mozambique's Sofala province, during the early hours of 30 December. According to Mozambique's National Institute of Meteorology (INAM) it caused strong winds and heavy rain.
The storm then tracked inland across central Mozambique, weakening into a low pressure system and arriving in Zimbabwe later on 30 December. In response to Météo France weather forecasts, PIROI mobilised its partners and contacted its partners from 20 December onwards.
Once Météo France services started monitoring CHALANE, PIROI became fully engaged in coordinating Madagascar Red Cross, IFRC, and partner National Societies (German and Luxembourg Red Cross Societies), organising preparedness activities such as pre-positioning equipment, mobilising team members, and alerting the local population.
Madagascar :
Immediate mobilisation by PIROI, IFRC, and their partners helped implement preparedness activities including:
Developing a prevention framework, through activation of the crisis modifier[1] of a project to strengthen local disaster preparedness and response capacities implemented with the support of DG ECHO
Proactive community awareness raising: 161 Malagasy Red Cross volunteers were mobilised for early warning activities among the local population in 7 districts of the 3 regions concerned
Preparing volunteers for emergency assessments
Logistical preparing through pre-positioning of water, sanitation and hygiene kits, as well as shelter kits and cooking kits for 500 households in three priority regions (Antalaha, Toamasina and Maroantsetra). Due to the COVID-19 pandemic, personal protective equipment (PPE) was also needed for the volunteers in these regions
According to the assessments carried out by Madagascar Red Cross (MRC), who were working with local authorities, Storm CHALANE did not have a significant impact on the region (a number of families were displaced, flooding occurred in some areas, etc.).
[1] A crisis modifier is a financial provision mechanism that provides flexibility and adaptability to context, thereby allowing rapid response to an anticipated or ongoing crisis in order to meet the most urgent humanitarian needs for a fixed period of time.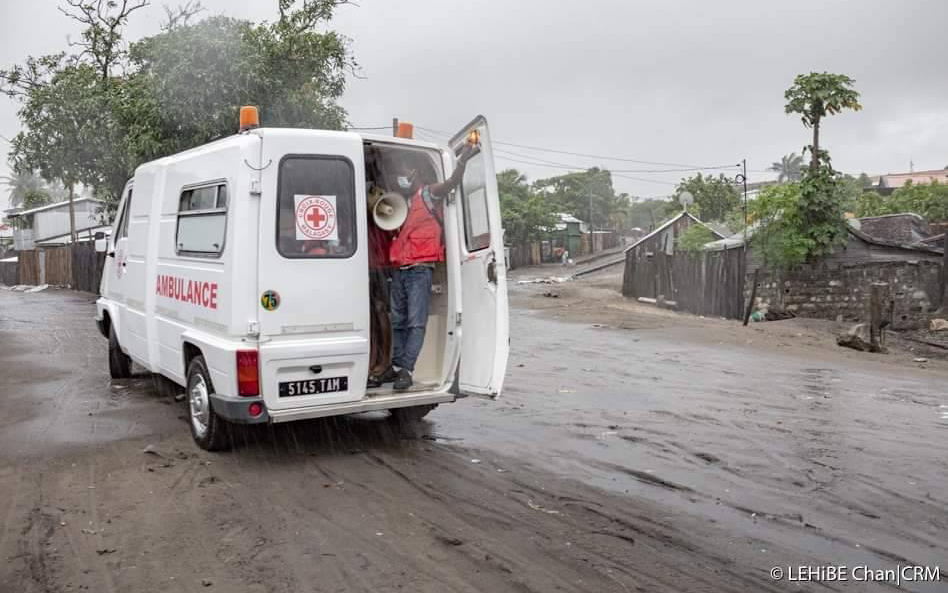 Mozambique :
Meanwhile Mozambique Red Cross (CVM) liaised with the authorities and triggered its Early Action Protocol (EAP)[1] for Cyclones, in coordination with the IFRC and German Red Cross. The EAP is activated on the basis of a risk analysis, and takes into account several criteria including vulnerability to wind and rain.
The protocol enabled the following activities to be undertaken:
Mobilising specialised team members (in Zambezia province) before the cyclone hit
Training 1,500 households in home-strengthening techniques (roofs and walls)
Awareness raising about the measures announced by weather services and water management authorities in Sofala, Zambezia, Inhambane and Manica provinces
Mobilising more than 50 volunteers in Buzi district (Sofala province) to carry out early action activities
Transfer and mobilisation of non-food items from the warehouse in Caia to Buzi district
Provision of shelter and personal protection kits to 1,500 families. These kits contain tarpaulins, nails, 1 saw, 1 hammer, 1 pair of pliers, nylon rope, buckets, etc.
[1] The Early Action Protocol (EAP) for Cyclones was developed in partnership with the German Red Cross (GRC) and with technical consultations from the National Institute of Disaster Management (INGC), the National Meteorological Institute (INAM), and the National Directorate of Water Resource Management (DNGRH). The actions anticipated in this EAP were defined based on extensive research and consultation with stakeholders at the national, provincial, district and community level in zones at high risk of cyclones.
According to the latest reports from Mozambique Red Cross, Beira did not suffer any major damage.
The regions of Sofala province affected by CHALANE (Dondo, Beira City, and Buzi) are areas that had already been struck by Cyclone IDAI in March 2019. Some minor damage was reported there, in particular at resettlement sites where people displaced by Cyclone Idai were staying in temporary shelters.
When questioned, local inhabitants mentioned the role that Cyclone IDAI played in raising awareness about the importance of proactive disaster preparation. Beira City thus seemed to be better prepared for the arrival of the cyclone: many homes and businesses had reinforced their windows etc.
Storm CHALANE – which could have been devastating for Indian Ocean territories – highlights the importance of strengthening population resilience and disaster preparedness, both of which are priority goals in PIROI's regional programme. For this reason PIROI is currently closely monitoring the development of Severe Tropical Storm DANILO, in order to initiate preparedness measures if the latter gains strength and threatens inhabited land.