As part of its disaster risk reduction strategy, PIROI regularly develops new tools to bring a fresh perspective to its prevention and awareness-raising activities. In Reunion, the Paré pas Paré ["Ready or not?"] project has adopted an innovative approach in order to increase public understanding and knowledge of natural and health hazards. Raising awareness using new technology and innovative tools helps increase the impact of messages and public engagement.
Various prevention tools were developed in 2021: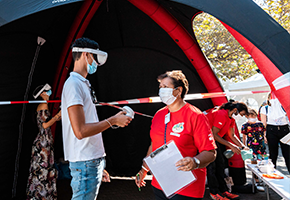 Inond'Action: virtual reality to experience flooding
This awareness-raising tool uses virtual reality technology to simulate the user's physical presence in a flooded environment. During the interactive experience the aim is to react effectively as flood waters rise. The user must interact with their surroundings to ensure their own safety and that of their loved ones.
Paré pas Paré Cyclone: Reunion Island's first mobile game for cyclone risk forecasting!
Using role-play, this mobile application lets players understand how to prepare for the arrival of a cyclone. Depending on the various levels of cyclone alert in progress, players learn virtually what to do: stock up on reserves, keep belongings safe, follow official instructions, etc. This is a 100% local application, developed with the start-up Bubblefish Entertainment, and is free to download from the App Store and Google Play Store.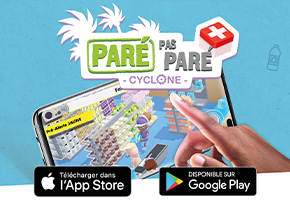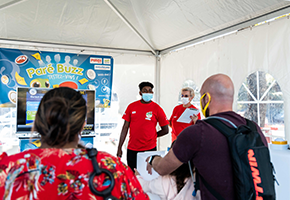 Paré Buzz: an interactive quiz to test knowledge of natural hazard-related risks
This quiz, inspired by television game shows, offers players the chance to test their knowledge of natural risks. The multi-player format and replica of a television studio complete with buzzers lets participants test their knowledge against that of opponents while having fun, yet also provides an opportunity to talk and learn about risks. 
Sauv' out kaz !, ["Save your home"] is an awareness-raising escape game about flood risks
Teams of four players have to prepare for rising water levels in their home, and must act in response to the situation. Participants have to cooperate, observe, and use deductive skills to succeed, determining how to best react to the situation.